In India, the Aadhaar Card is a must-have document. Numerous services require an Aadhar card, which is a critical piece of identification. Doing any process, whether government or private work, requires it.
In addition to registering for government programs, applying for bank loans, and getting mobile phone SIM cards, it is also used for a variety of other purposes. However, the Aadhar card is susceptible to damage.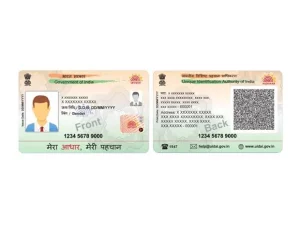 In order to avoid this, make sure to have it printed on plastic before putting it into service.
This is now possible. Aadhar cards can now be converted to PVC cards using an online process, and the cost is only 50 rupees.
In order to prevent your Aadhar card from being damaged, you can apply for a PVC Aadhar card online today.
How to Get PVC Aadhar Card Copy Online
There is an option to order a new Aadhar PVC Card online. The following paragraphs detail the online ordering procedure:
Click on "Order Aadhaar PVC" on https://myaadhaar.uidai.gov.in/genricPVC and follow the instructions.
Your "Aadhaar Number" or "Virtual ID" or "EID" number can be entered here. 🙂 Send OTP or Send TOTP by entering the 'Security Code' and clicking on the appropriate button. To receive the Time-Based-One-Time-Password (TOTP) on your mobile device, click 'Send TOTP.' Give your mobile number a call and ask for the one-time password (OTP). Select the 'Terms and Conditions checkbox and press the 'Submit' button to complete the transaction.
As a reminder, you can order your Aadhar PVC Card using either your registered or alternate mobile phone number to receive an OTP. Click the "Send OTP" or "Send TOTP" button and enter your phone number if you don't already have a registered mobile phone number.
You'll see a preview of your Aadhaar information on your screen at this point. After you've double-checked everything, click the "Pay Now" button.
It's important to note that if your mobile phone number is not registered, you cannot preview your Aadhaar details.
Decide on a method of payment. To pay with a credit or debit card, select 'Card (Credit/Debit)' from the drop-down menu. Select "Net Banking" if you want to make a payment using your Net Banking. To make a payment using the UPI system, click on "UPI." Payment of Rs.50 is required to obtain an Aadhar PVC card.
The receipt for your payment is generated at this point. Clicking on the 'Download Payment Receipt' button will allow you to save the receipt as a PDF file.
AADHAAR PVC Cards will be sent to the individual by Speed Post within five working days of the request/order being received by UIDAI.